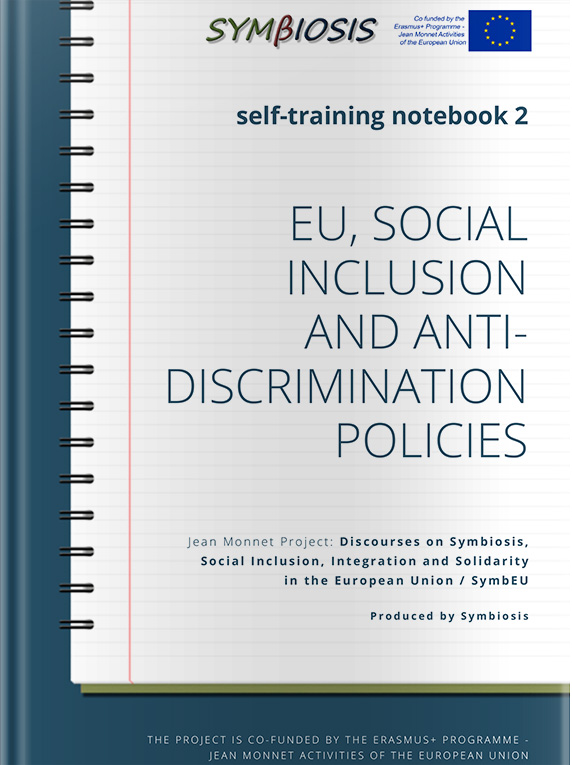 European Union, Social Inclusion and Anti-Discrimination Policies – Self-Training Notebook
Contents
Equal in Law, Equal in Society
by Konstantinos Tsitselikis, Dean, Professor of International Law, Department of Balkan, Slavic and Oriental Studies, University of Macedonia
Protection of Minorities and the Council of Europe
European Convention of Human Rights (ECHR) and Protection from Discrimination
Equality and Anti-Discrimination Policies
by Andreas Takis, Associate Professor, Faculty of Law, Aristotle University (AUTh)
Basic Concepts of Equality and Anti-Discrimination
Equality and Anti-Discrimination Law in the EU
Religious, Racial and Ethnic Discrimination
Social Inclusion and Intercultural Education
by Eleni Hodolidou, Associate Professor in the Department of Education, Faculty of Philosophy, Aristotle University (AUTh)
Equality of Opportunity and Social Inclusion
Intercultural Education
Cultural Diversity, Us and the Others
by Despina Syrri, Director, Symbiosis-School of Political Studies in Greece, Affiliated to the Council of Europe Network of Schools
Cultural Diversity and Equality: Approaches and Conflicts
This publication is a Self-trainingNotebook on EU, Social Inclusion and Anti-DiscriminationPolicies, produced by Symbiosis-School of Political Studies in Greece in the framework of the Jean Monnet project Discourses onSymbiosis, Social Inclusion, Integration and Solidarity in the European Union / SymbEU, co-funded by the Erasmus+ Programme – Jean Monnet Activities of the European Union. The Self-training Notebook was completed in the spring of 2020.
© Symbiosis. Thessaloniki, 2020
The opinions expressed are those of the authors.
Download PDF